Toppik has been creating great cosmetic hair building fibers since 1981
Toppik was launched in 1981. It is now the world leader in cosmetic hair thickening products. In fact, it is so good, over 3 million men and women use it. It's 100% natural keratin fibres will blend undetectably with your own hair to instantly create the appearance of naturally thick and full hair.
In fact 93% of people feel younger when they use it, 90% believe it is natural looking and 96% would recommend it to others with thinning hair.
When use Toppik Hair Building Fibres you will notice it:
Instantly fills in thinning areas
Conceals hair loss
Makes fine hair look completely thick and full
Great as a root touch-up between getting your hair coloured.
How it works
Dry and style hair as usual
Shake Toppik Hair Fibres into thinning areas
Gently pat hair to disperse recently applied Toppik Hair Fibres
Lightly comb, brush, or style your hair after applying Toppik Hair Fibres
Why it's so good
Resists wind, rain and perspiration
The nine shades can be mixed to match virtually any hair colour
Works on all hair types and textures
Easily washes out with shampoo
Frequently Asked Questions
Will Toppik Hair Building Fibres affect my hair growth?
They will neither encourage or discourage hair growth.
How long will a 27.5g bottle of Toppik Hair Building Fibres last?
That will depend on how frequently you use it. However it is estimated that the 27.5g bottle will last approximately 60 days or more.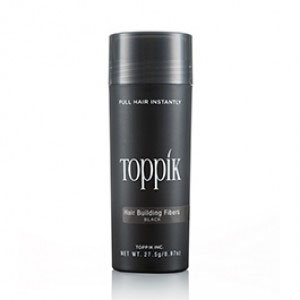 How long will Toppik Hair Building Fibres last?
Toppik Hair Building Fibres will stay in place until you wash your hair
Can different Toppik Hair Building Fibres be mixed together?
Yes, you can mix different shades.  In fact, this works best for blonde and gray hair
Are there any special warnings when I use Toppik Hair Building Fibres?
It is for external use only. If irritation or rash appears, discontinue use. Avoid contact with eyes. Avoid inhalation.